An evening under the stars at the Pinnacles
After seven weeks of varied and enjoyable events for all ages, Spring into Parks came to an end on Saturday 19th October with an amazing stargazing night at the Pinnacles Desert in Nambung National Park. Around 150 people enjoyed this rare treat, which started with a spectacular sunset over the Indian Ocean viewed from the Desert Discovery Centre.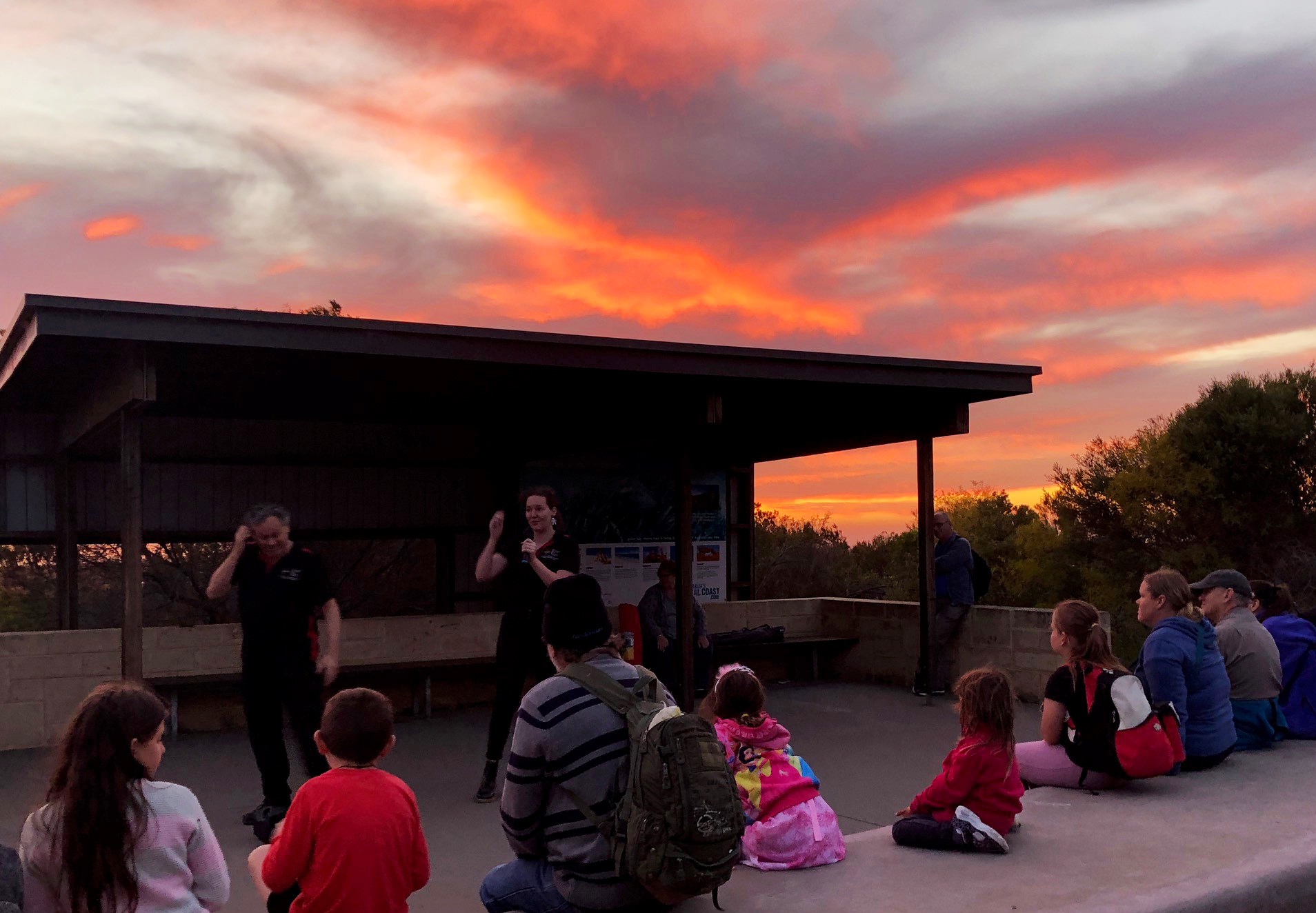 Participants heard from astrophysicists from the International Centre for Radio Astronomy Research (ICRAR) talking about the multi-billion dollar Square Kilometre Array project, co-located in Western Australia and South Africa. It will be the world's largest radio telescope and one of the largest scientific endeavours in history.
National park rangers Vanessa and Dan also spoke about the fascinating history of the park and the ancient geological processes that formed the Pinnacles as we see them today.
As night fell, the clouds cleared and the Milky Way put on a spectacular show.  Ten telescope operators from the Stargazers Club WA had their equipment trained on key elements of the night sky, and participants were able to get spectacular views of Saturn, Venus and various other planets, stars and constellations.  Mike Whait from Astrotourism WA gave 'night sky tours' with his amazing laser pointer.  'Astrophotobear' Michael Goh, one of WA's top astrophotographers was also there and captured a stunning impression of the night which can be viewed here.
After a very comfortable night's accommodation in Cervantes and a lobster lunch, it was back to Nambung National Park on the way home for a day-time view of the Pinnacles and a visit to the Desert Discovery Centre.  The park and self-drive tracks around the Pinnacles are very well maintained, and it was well worth the second visit within 24 hours.  The wildflowers in the park were an added bonus.
Thanks go to Leslee Holmes, President of the Shire of Dandaragan, for opening the proceedings and for the Shire's support for the event.  Thanks also to DBCA's Parks and Wildlife Service, ICRAR, Astrotourism WA and the amateur astronomers from the Stargazers Club WA (who brought along their own equipment for use on the night) for working with the WA Parks Foundation on this special event.  The evening was a great success, and much positive feedback has been received.   We are already looking forward to next year's Spring into Parks stargazing adventure, wherever it may be.
Written by Park Ambassador and Project Manager at the WA Parks Foundation Tracy Shea.